Comfoor
Comfoor supplies hearing protection solutions, tailored to the end user.
For each customer, a cast is made from their ear and based on this, a 3D scan is taken, which is used for the final production of the mold.
Comfoor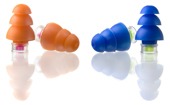 offers services to audiologists/ hearing care professionals in the Nederlands but also supports customers all across Europe.
At the moment, more then 2000 sales agents are using Merkato. Together they put up to 1000 orders per day into the system.
The result
By integrating Merkato into the Comfoor dealer portal, the company has taken another important step to relieve their dealers and point of sales teams from laborious processes. Further efficiency improvements are realised due to various process steps that are now operating automatically.
Click here for an elaborated customer story about their experience of Merkato