SupplyChain Expertsessie inspires!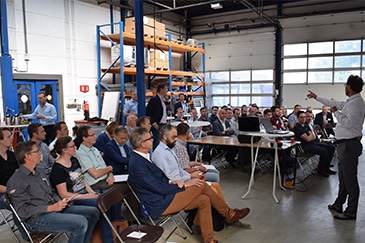 Last Friday, 21st June, the Dutch manufacturing industry elite met to share and learn about modular production. Many companies are struggling with the ever-increasing variety of product designs by an increasingly demanding customer. This causes problems throughout the entire supply chain. As usual, we have opted for a "tough" location in the middle of the production process and the SupplyChain.
On location at Heering in Vaassen, about 50 toppers from various disciplines within the industry listened interactively to the presentations of Frank Jan Evers (Heering) among others. He has already achieved wonderful savings by working modularly within the Supply Chain. Going from variety to flow within his company was very satisfactory.
In addition, there were inspiring sessions by, Bas Könst (Quootz) and Tonnis de Boer (TradeCloud)
Jannes Slomp, expert in the field of Supply Chain Management at the Hogeschool Arnhem and Nijmegen (HAN), also gave his vision on the ideal product architecture based on the following points;
What is Product Architecture Mapping?
Configure to Order: think in modules, interfaces and functional decomposition
How can you successfully deploy PAM in the manufacturing industry?
A number of practical examples
His story also shows how important a good product configurator is to further improve the Supply Chain and an integrated sales, purchasing and production process ensures more speed and higher margins.
Do you want to know more about this Tradecloud session or attend next session? Contact us through this link or call 088-6375286