Knapen Trailers
As Europe's first producer of moving-floor trailers and inventor of the self-supporting construction method, Knapen Trailers is the expert in transport efficiency.
Knapen produces trailers that are sold through an international dealer network. The complexity of Knapen's products requires a lot of specific knowledge from the dealers.
The question
Years ago, Knapen management recognized the importance of a sales configurator to assist dealers in unambiguously recording the customer wishes.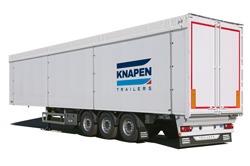 The solution
Therefore Merkato was acquired from Quootz. The user-friendliness of Merkato and the simple way of building and maintaining models have been deciding factors for this choice.
Knapen's trailers can get quite complex. More than 1000 variables and a multitude of business rules determine the final order. Every day, dozens of Knapen sales employees are busy making perfect quotes for their customers. Merkato is also used to generate large pieces of the required production information.
The result
Spread across Europe, many dealers are now configuring trailers quickly, efficiently and in their own language. Since the introduction of Merkato, production has more than doubled, while work preparation has not had to expand.