JOZ; Home of the clean stable !
JOZ is de grondlegger van de moderne stalreiniging, internationaal verwoord met de slogan 'Home of the clean stable'. Ruim 65 jaar geleden bedacht en ontwierp Jan Oostwouder in het Westfriese 't Zand een uniek mestafvoersysteem welke hedendaags nog steeds geproduceerd wordt.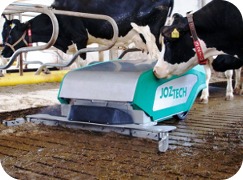 Als innovatief bedrijf ontwikkelde JOZ de eerste mest robot, inmiddels is alweer de derde generatie slimme robots doorontwikkeld. Mobiele robottechnologie is een van de speerpunten voor de toekomst van JOZ.
JOZ telt momenteel rond de 60 medewerkers en is gevestigd in Westwoud, Holland.
De mestafvoersystemen van JOZ vinden via dealers hun weg over de hele wereld.
Met Merkato wordt het dealers over de hele wereld makkelijk gemaakt om de juiste keuze te maken uit de oplossingen die JOZ kan aanbieden.
Op de achtergrond lopen er tijdens het configureren complexe calculaties mee die de optimale oplossing berekenen en de gebruiker adviseren over mogelijke oplossingen.